Congratulations to all you amazing athletes who braved the summer storms of Helvetia this year. It was so wonderful to get out there and see your smiling faces, hear your cheers, and witness the triumph of the human spirit. From first-timers who set new PRs to old-timers who need both hands and both feet to count the number of times they have completed Helvetia, we were so proud to be part of your comeback!
Packet Pick Up
If you are unable to make it to one of our packet pick up days, please select :"SHIP MY PACKET" by Friday, June 4th. Due to on-going COVID restrictions, we will not have bag check at the event and highly recommend picking up your packet at our pre-race day packet pick up.
In-person Packet Pick Up Dates::
Friday, June 11th, 10am-6pm-PRC Beaverton
Saturday, June 12th, 10am-6pm-PRC Beaverton
Sunday, June 13th, 6:00am-7:00am at Hillsboro Stadium. Due to on-going COVID restrictions, we will not have bag check at the event and highly recommend picking up your packet at our pre-race day packet pick up.
Portland Running Co. – Beaverton
10029 SW Nimbus Ave STE 100
Beaverton, OR 97008
(503)524-7570

MUST READ FAQs
Packet Pick Up:
Friday, June 11th, 2021, 10am-6pm; Saturday June 12th, 10am-6pm
10029 SW Nimbus Ave Ste 100
Beaverton, OR 97008
(503)524-7570
6:00 am – Parking opens. Arrive early! Follow police/volunteer instructions to find parking at Hillsboro Stadium.
6:00 am –Packet Pickup Open
6:30 am – EARLY Half Marathon WALK START: 13:00 min+ milers please
7:00 am- Half Marathon Start
7:10am – 10K Start
7:20am- 5K Start
Q: Are walkers welcome?
A: Yes! Our half marathon course is open for four hours! If you expect to take more than four hours, please transfer to the early walk start.
Q: Can a friend pick up my packet?
A: Yes! They will just need to have your confirmation email or bib number assignment
Q: Can I switch distances?
A: You can switch from the half marathon to the 10K or 5K for no charge up to one week before the race. To change distances between the half marathon and the 10K/5K, you can do it yourself by going into your active.com account. You may change from the half to the 10K/5K but fees will not be refunded.  If you change from the 10K/5K to the half marathon, you will be charged the difference in registration fees.
Q: Is there somewhere I can leave my stuff during the race?
A: In your car! We updated the race route and so your start and finish are a short walk from your car. Due to COVID-19 restrictions, we are not offering a bag drop.
Q: Is there an official Helvetia Host Hotel?
A: Yes! Courtyard by Marriott Hillsboro has amazing Helvetia packages that include free breakfast! 
Q: Are strollers allowed on the course?
A: Unfortunately, our route is not stroller friendly. There are several "choke points" on the course that are too narrow to accommodate strollers.
Q: What are the age group categories?
A: 19 & Under, 20-24, 25-29, 30-34, 35-39, 40-44, 45-49, 50-54, 55-59, 60-64, 65-69, 70-74, 75-79, and 80 & better
Q: Are dogs allowed on the course or at the stadium?
Gordon Faber Stadium does not allow dogs on the premises. Dogs are also not allowed on the course. The weather could be very warm so we strongly suggest that you leave your four-legged friends at home for this one.
Parking:
Parking is free. Please remember parking is limited so carpool and please come early to avoid traffic lines and stress on race day. We suggest arriving at the stadium approximately 30 minutes prior to your race start.
REFUND POLICY:  RWP Events does not offer refunds for any reason. If you are unable to make it to the race this year, please transfer to our virtual event.
Updated June 10th, 2021:
ALERT: Our event date has been changed to SUNDAY, JUNE 13th and the race time has been changed to a 7am "wave start." 
We have been approved for an IN-PERSON event with a limit of 1500! We are working diligently with all entities and officials to create a safe, fun, and successful event. If you are unable to attend or you aren't quite ready to join the pack, we are also offering a virtual edition. We have only a few spots remaining for this year's event so regsiter now! Here is the wave start schedule:
     6:30am: OPTIONAL EARLY Half Marathon START (12:00+ min miles please)
     7:00am: Half Marathon Start
     7:10am: 10K Start
     7:20am: 5K Start
Please arrive to the start line 5 minutes before your wave begins. Please contact us if you are planning on starting in the 6:30 Half Marathon Early Start. If you are going to transfer to a different distance, please contact us ASASP. Transfer My Race Distance.
PARKING: All parking is at Hillsboro Stadium. Please enter through GATE A and follow our parking team directions. Arrive to allow yourself plenty of time to get to the start line which is a short walk from the parking lots and located just outside the stadium on Century Blvd. Please consider carpooling!
HEALTH SCREENING: Prior to your arrival at the event, please print, read, and complete our COVID Health Screening. Forms will be collected at the event when you enter the start area.
A note from event producer Paula Harkin:
Helvetia 2021 is right around the corner. Whether you choose to come to the race in person or to run or walk virtually anywhere in the world, you can count on race t-shirts, medals, custom bib numbers, official merchandise, and an official results page. 
Watch for updates and information as we get closer to the event date.  We will offer no-charge-distance changes in case you have been running/walking more or less. 
Thank you for investing in YOUR fitness and OUR race!  Races are returning to normal so keep on training!  We will continue to work hard to bring you the best race experience possible! 
In health, fitness, gratitude and happiness!  Paula
Since we have both virtual and in-person events, you can now request to have your race packet mailed to you whether you are right here in Oregon or Anywhere, USA. After you have registered, come right back here to have us MAIL YOUR PACKET.
Register now for the Helvetia Half Marathon, 5K, or 10K run/walk. We are excited for the 20th annual running of this award winning event where you "Leave the City Behind". Come enjoy this scenic course with breathtaking views of the gorgeous countryside in rural Washington County.
The Helvetia Half, 5K & 10K begins and ends at Gordon Faber Recreation Complex (Hillsboro Stadium), home of the Hillsboro Hops. Our spectacular course travels through the pasturelands of Northwest Oregon past the hamlet of Helvetia and its historic landmark, Helvetia Tavern. After a jaunt through the countryside, it's back to Hillsboro Stadium for an awesome finish line chock full of post-race treats including lunch provided by Baja Fresh and craft cocktails from Rogue Brewery!
It's no wonder the Helvetia Half Marathon has been voted the BEST HALF MARATHON in the Northwest! This course is scenic and challenging which makes the reward even better! Join us for the 20th Annual Helvetia Half Marathon, 5K &10K!
Charity of choice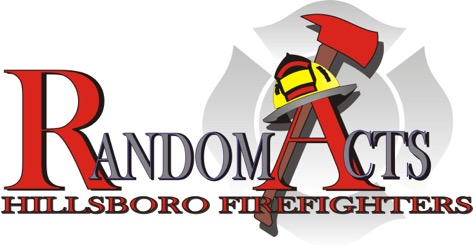 Hillsboro Firefighters Random Acts, Inc. is a 501(c)(3) tax exempt, charitable organization, modeled after a national program that was originated in Oakland, California by firefighters from that city. The model that Oakland developed has been adopted by many other organizations across North America and has touched the lives of thousands of people in need of assistance.
This charity program has been created by dedicated firefighters and employees from the City of Hillsboro who truly believe that we can make a difference in our community in ways besides our emergency responses and daily interaction with the public.