Updated May 4th, 2021: We have been approved for an IN-PERSON event with a limit of 1500! We are working diligently with all entities and officials to create a safe, fun, and successful event. Our race is filling up fast so register ASAP to reserve your race medal, race shirts, and goodie bag.  ALERT: Our event date may be changed to SUNDAY, JUNE 13th and the race time will change to a 7am "wave start." Due to restrictions regarding potential "extreme risk" designations in Washington Country, we will have more solid information by the end of the week. See you next month!
A note from event producer Paula Harkin:
We are working diligently with local authorities on producing this race. You can count on race t-shirts, medals, custom bib numbers, official merchandise, and an official results page. 
Watch for updates and information as we get closer to the event date.  We will offer no-charge-distance changes in case you have been running/walking more or less. 
Thank you for investing in YOUR fitness and OUR race!  Races will return to normal at some point so keep on training!  In the meantime, we will continue to work hard to bring you the best race experience possible!
In health, fitness, gratitude and happiness!  Paula
Register now for the Helvetia Half Marathon, 5K, or 10K run/walk. We are excited for the 20th annual running of this award winning event where you "Leave the City Behind". Come enjoy this scenic course with breathtaking views of the gorgeous countryside in rural Washington County.
The Helvetia Half, 5K & 10K begins and ends at Ron Tonkin Field, home of the Hillsboro Hops. This spectacular course travels through the pasturelands of Northwest Oregon past the hamlet of Helvetia and its historic landmark, Helvetia Tavern. After a jaunt through the countryside, it's back to Ron Tonkin Field for a grand finish in front the Jumbotron right on the Hillsboro Hops Field!
It's no wonder the Helvetia Half Marathon has been voted the BEST HALF MARATHON in the Northwest! This course is scenic and challenging which makes the reward even better! Enjoy the route, and the post-race party that includes burgers, beer, and live music. Join us for the 20th Annual Helvetia Half Marathon, 5K &10K!
Helvetia 2020 News and Updates
Helvetia COVID-19 Update From RWP
Helvetia 2020 Postponed Due To COVID-19.
The 2020 Helvetia Event has been officially postponed until 2021. Governor Kate Brown has banned large events in the State of Oregon so until such time as large group gatherings are allowed, we will be postponing our events, anxiously awaiting the time we can come together to share our passion for running and walking.  We are committed to adhering to the current recommendations by health officials and in the very near future, we will resume producing safe, world-class events.
2020 would have been the 20th running of The Helvetia Half Marathon and related events. This race has a special place in my heart.  I grew up in the area, attended Hillsboro HS, and frequented the Helvetia Tavern with my friends and family. When I designed this course, I knew the hills would be challenging but the beautiful farmland and countryside views were something that I was impassioned to share. Our after party always delivers with amazing burgers, beer and live music. We understand the challenge of the race the rewards it deserves.
I love this race and I am very proud to have created it and to have brought it to our community.  It pains me to skip a year but it is our only option for now.  Having been impacted by COVID-19 as a race director and as a participant, I understand and appreciate all the training and sacrifices that go into preparing for events. I want to encourage you to continue working toward your fitness goals for your mental well-being and for your physical health. Take time to encourage and support those around you to keep on running and walking. Helvetia will be back in 2021.
For Helvetia 2020 we have devised two options for registered athletes:
• Automatic Deferment: Do nothing. If you are registered for Helvetia 2020, your registration has been automatically transferred to Helvetia 2021, June 12th, 2021. The $25 deferment fee has been waived.
• TRANSFER: If you would like to transfer to another RWP event, you may do so without a transfer fee. The normal $25 transfer fee has been waived. You may transfer and apply your registration fees to another race. Please note that individual race fees may vary. Registration transfers must be completed by June 1st, 2020.
Here is our 2020 event calendar:
Independence Day 2020 • 10K/5K – July 4th
Bridge of the Goddess Half Marathon 2020 • 10K/5K – September 12th
Hippie Chick Half Marathon 2021 • Quarter Marathon/5K – May 8th, 2021
Helvetia Half Marathon 2021 • 10K/5K –
WHAT ARE YOUR NEXT STEPS? If you are planning to participate in Helvetia 2021, you don't need to do anything. If you are going to transfer your Helvetia registration to a different 2020 RWP event, please follow these instructions before June 1st:
1. Log into your ACTIVE MyEvents account
2. Find your 2021 Helvetia Registration
3. Select Change Event
4. Choose a new event – click on another 2020-2021 RWP Event
5. Select your race category/distance
6. Click CONTINUE
7. Verify Registration Information
8. Click CONTINUE
9. Click COMPLETE
In the meantime, keep lacing them up and hitting the tracks, trails, paths, and roads but mostly, stay safe! We are committed to you and we are dedicated to the sport of endurance running and walking. We will see you all at one our future starting lines.
Paula Harkin
runwithpaula.com
If you want to chat about running, walking, training tips, or anything product related, please reach out to the professionals at Portland Running Co. who continue to serve the community through our website, our phones, and in our two store locations.
MUST READ FAQs
Packet Pick Up:
Friday, June 11th, 2021, 10am-6pm
Portland Running Co. Beaverton
10029 SW Nimbus Ave Ste 100
Beaverton, OR 97008
(503)524-7570
Day of Event Schedule:
·   6:00 am – Parking opens. Arrive early! Follow police/volunteer instructions to find parking at stadium or Intel.
6:30 am – Gear check and Packet Pickup Open
8:00 am – Half Marathon START
8:15 am – 10K & 5K START
9:00 am – Breakfast begins
9:15am-Hit Machine Post-Race Live Music Begins
9:30-10:30 am – Awards table open
Q: Are walkers welcome?
A: Yes! Our half marathon course is open for four hours!
Q: Can a friend pick up my packet?
A: Yes! They will just need to have your confirmation email or bib number
Q: Can I switch distances?
A: You can switch from the half marathon to the 10K or 5K for no charge up to one week before the race. To change distances between the half marathon and the 10K/5K, you can do it yourself by going into your active.com account. You may change from the half to the 10K/5K but fees will not be refunded.  If you change from the 10K/5K to the half marathon, you will be charged the difference in registration fees.
Q: Is there somewhere I can leave my stuff during the race?
A: Yes! We offer free gear check for all participants. Gear check opens at 6:30am. It is highly recommended that you check your gear by 7:30am to avoid lines.
Q: Is there an official Helvetia Host Hotel?
A: Yes! Courtyard by Marriott Hillsboro has amazing Helvetia packages that include free breakfast! 
Q: Are strollers allowed on the course?
A: Unfortunately, our route is not stroller friendly. There are several "choke points" on the course that are too narrow to accommodate strollers.
Q: What are the age group categories?
A: 19 & Under, 20-24, 25-29, 30-34, 35-39, 40-44, 45-49, 50-54, 55-59, 60-64, 65-69, 70-74, 75-79, and 80 & better
Q: Are dogs allowed on the course or at the stadium?
Gordon Faber Stadium does not allow dogs on the premises. Dogs are also not allowed on the course. The weather could be very warm so we strongly suggest that you leave your four-legged friends at home for this one.
Parking:
Parking is free. Please remember parking is limited so carpool and please come early to avoid traffic lines and stress on race day. Vehicles will be parked in both the stadium lot and Intel. Be prepared to park where you are directed. We suggest arriving at the stadium by 6:30am.
REFUND POLICY:  RWP Events does not offer refunds for any reason. Up to two weeks prior to the event date, registered particpants may transfer to another RWP Event or defer to the following year for $25.
Charity of choice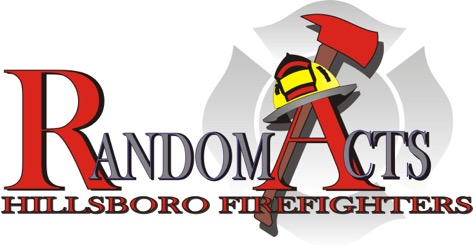 Hillsboro Firefighters Random Acts, Inc. is a 501(c)(3) tax exempt, charitable organization, modeled after a national program that was originated in Oakland, California by firefighters from that city. The model that Oakland developed has been adopted by many other organizations across North America and has touched the lives of thousands of people in need of assistance.
This charity program has been created by dedicated firefighters and employees from the City of Hillsboro who truly believe that we can make a difference in our community in ways besides our emergency responses and daily interaction with the public.
Packet Pick Up
Packet Pick Up June 11th and June 12th (Race Day):
Friday, June 11th, 10am-6pm:
Portland Running Co.
10029 SW Nimbus Ave STE 100
Beaverton, OR 97008
(503)524-7570

Saturday, June 12th: Hillsboro Stadium, starting at 6:30am